Image by ©Mintautas Grigas
Many are asking how to get to this remote paradise. Thus, in this article we hope to answer many questions about flying by plane, coming by bus and driving by car to Dakhla.
FLIGHTS
There are no direct flights to Dakhla for now. However, from Europe you can fly to Casablanca or Agadir and then to Dakhla. Most international airlines offer flights to Casablanca and Agadir from Frankfurt, Berlin, London, Paris, Milan and Amsterdam. Alternatively, you can simply book charter/connecting flights from Europe to Dakhla with Royal Air Maroc (RAM). Royal Air Maroc is the only airline that offers flights to Dakhla with 7 flights a week.  All of the flights are in the late afternoon or evening. Moreover, there are regular flights from/to Las Palmas, Gran Canaria with CanaryFly, but they are only seasonal.
New! Recently a Dutch low-cost airline Transavia announced that they are launching direct flights from Paris to Dakhla in November 2017.
If you want to get a great deal you should always book flights in advance. And yes, it's possible to come here for less than €300!!
There are direct flights to Casablanca operated by RAM from New York, Washington and Montréal. From there you can take a flight to Dakhla with RAM.
Baggage allowance flying with Royal Air Maroc:
Hand luggage:
One piece is allowed, with maximum dimensions of 115 cm, weighing up to 10kg to take on board.
Checked in luggage:
Economy Class passengers are allowed two bags weighing up to 23kg
Premium/Business Class passengers are allowed three bags weighing up to 32kg each.
KITESURFING EQUIPMENT:
For those who wish to bring their kitesurfing equipment, a 23kg kite board measuring up to 220x40x40cm is free of charge. However, if you are carrying a surfboard or windsurfing equipment you will have to pay for it and the prices are as written below.
TRANSPORT OF SPORTS EQUIPMENT

Relevant sports equipment is as follows:
Golf, Water skis, fishing equipment, weapons, scuba diving equipment, Pole vaults, tandem bicycles, surfboards, windsurfs, hand-gliders, paragliders and canoes.
First golf bag up to 23KG is free of charge.
Fishing material (including 2 rods, 1 pair of boots, 1 box and 1 net) is free of charge if under 300 cm long. Any items above this number should be considered as excess baggage.
For information about excess baggage fees refer to: http://www.royalairmaroc.com/int-en/Travel-Info/Baggage-and-service-fees
Please at all times check RAM website for all updates. We are not responsible for any changes made on their website and if their information does not match with information in this article.
OUR TIPS:
If you want to save money and avoid paying for check-in baggage: put all heavy stuff and liquids in your kite bag and take the light stuff like clothes in your hand luggage.
When changing flights in Casablanca, make sure you hurry up at the airport because you will be tight on time.
When flying with RAM from Europe to Dakhla ask for two flight tickets. This will allow you to easily change flights without worrying about getting a 2nd ticket in the airport.
ROAD TRIP BY CAR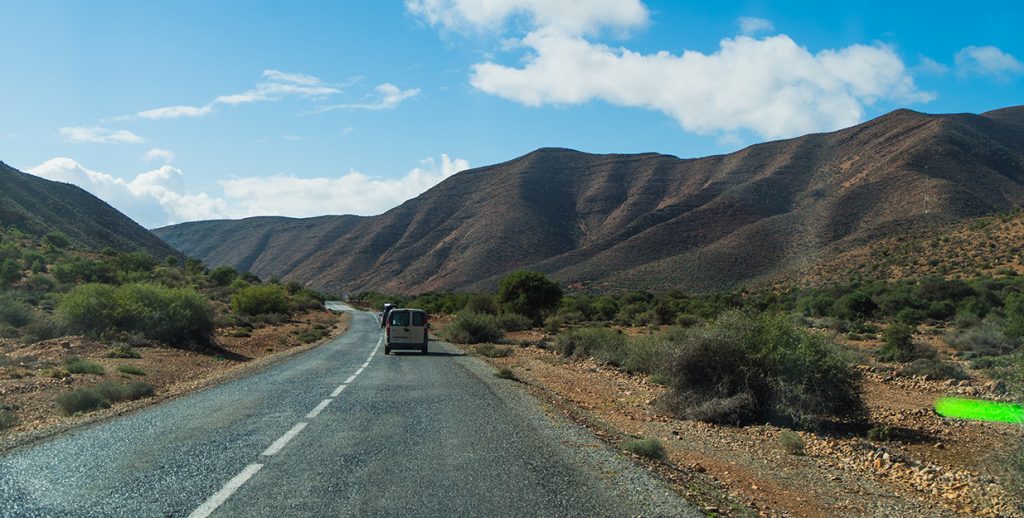 Image by ©Mintautas Grigas
Driving in Morocco by car is safe and a great experience rather than a dangerous choice. The distance from Marrakesh to Dakhla is 1490 km and it is approximately 24 hours of driving. Therefore, we suggest driving Marrakesh- Laayoune (which is a middle stop) and then Laayoune- Dakhla. The entire trip should take 2 days and 1 night (overnight in Laayoune). In general, driving in Morocco is safe and roads are in good condition. Not to mention, that the most of the time you will be driving along the Atlantic coast with stunning panoramic views.
Nevertheless, be cautious. There are many police and security forces on the road to Dakhla. You should always stick to the speed limits, slow down and, if required, stop at all security checkpoints.
You should expect long distances between gas stations that are around 100km-200km. but on the bright side, fuel and gas are very cheap at around €0.80 per litre.
Our tips:
Take extra water and food, just in case.
Moroccans are very friendly people and can help in case something happens, so don't hesitate to ask for help if anything happens.
Don't drive at night! It may be dangerous as camels and people are walking on the road, trucks and cars are driving with no lights.
Have around 10 copies of your passport, so you can give them to police officers if they ask.
BUSSES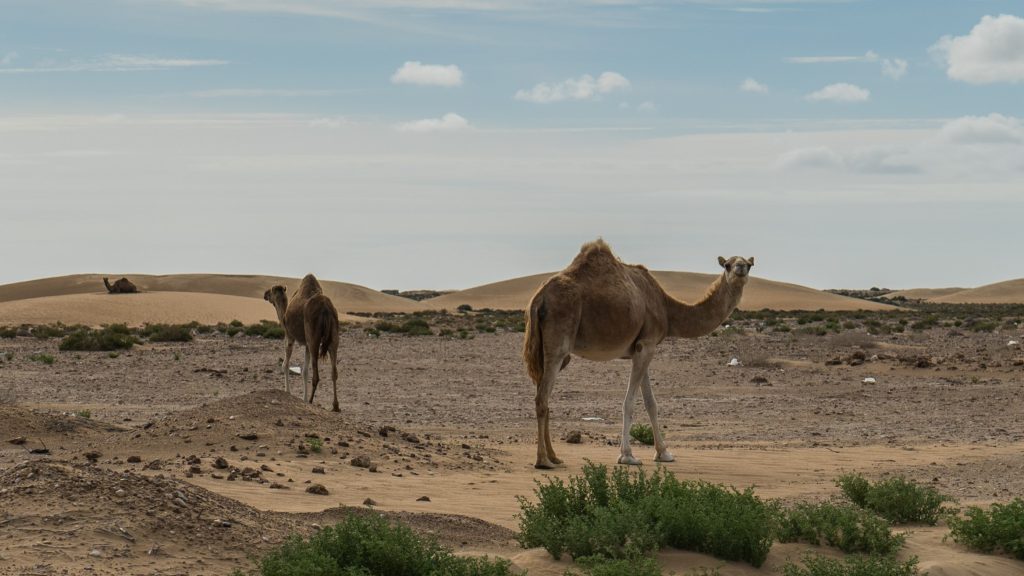 Image by ©Mintautas Grigas
As already mentioned, the distance from Marrakesh to Dakhla is 1490 km. a bus will make this distance in approx. 26 hours.
Marrakesh – Agadir : 260kms
Agadir – Laâyoune : 690kms
Laâyoune – Dakhla : 540kms
There are 3 bus companies offering transport from Marrakesh/ Agadir: Supratours, CTM and SATAS. Supratours and CTM are the main bus operators in the country as well as the most convenient, safe and have AC. However, SATAS is quite basic, not so convenient but a cheaper bus, compared with the other two.  All 3 bus companies have daily direct buses from Marrakesh/Agadir to Dakhla that cost around 400-500 dirhams. However, you cannot reserve your trip online so you need to buy bus tickets from Supratours, CTM and SATAS offices in Morocco.
For more information visit:
http://www.oncf.ma/
http://www.supratours.ma/
http://www.ctm.ma/
FAQ:
How long is the travel time and what flight connection is the best?

You can reach Dakhla within 1 day from Europe and it usually takes 6-8 hours.
The flight connections to Dakhla are through either Casablanca or Agadir.

Do I need a visa?

There are no visa charges for EU residents. Please remember to bring a pen to fill out entry and departure documents at the airport.

Which entry document do I need?

Passport, which is valid for at least 6 months. Non-European travellers should contact Moroccan embassy in advance.

How much does it cost to bring kitesurfing equipment?

A 23 kg kite board measuring up to 220x40x40cm is free of charge.
If you have any questions about getting to Dakhla please do not hesitate to contact us.
Unauthorized use and/or duplication of this material, including but not limited to: photographs; videos; written content; logos, without express and written permission from this site's author and owner is strictly prohibited.